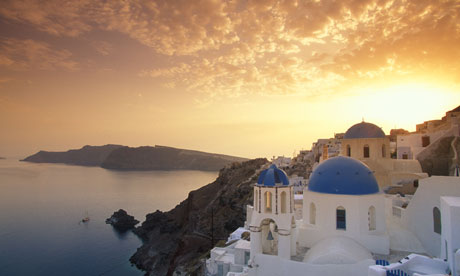 Belize
's largest island, Ambergris Caye, a popular destination for scuba divers, has come top of a list of the world's 10 best islands in a survey of travellers.
Third place went to Bora Bora, in French Polynesia in the Pacific Ocean, which is surrounded by a lagoon and a barrier reef, and is popular for its overwater bungalows.
"Ambergris Caye boasts spectacular caves, winding waterfalls, tropical rainforest and hundreds of limestone caves," said a TripAdvisor spokeswoman, Emma Shaw.
She said TripAdvisor's inaugural list of the world's best islands was based on millions of reviews and ratings by international tourists on the travel website over the past year.
The highest ranking European island to feature on the list was Santorini, in
Greece
, known for its black volcanic-soil beaches, whitewashed buildings and dramatic views.
Santorini topped a separate list of the top 10 European islands, in which Greek islands took four of the slots; joining Santorini were Cephalonia, Naxos and Zakynthos.
The top-ranking island in a list for Britain was Mainland, in the Orkney Islands in Scotland, which came fifth in a separate European list.
TripAdvisor's top islands
World
1 Ambergris Caye - Belize
2 St John, US Virgin Islands - Caribbean
3 Bora Bora - French Polynesia
4 San Juan Island - United States
5 Santorini - Greece
6 Isla Mujeres - Mexico
7 Moorea - French Polynesia
8 Koh Tao - Thailand
9 Easter Island - Chile
10 Nosy Be - Madagascar
1. Santorini - Greece
2. Cephalonia - Greece
3 Capri - Italy
4. Naxos - Greece
5. Mainland, Orkneys - Scotland
6. Gozo - Malta
7. Zakynthos - Greece
8. Jersey, Channel Islands - Britain
9. Isle of Skye - Scotland
10. Fuerteventura - Canary Islands
UK
1. Mainland, Orkneys- Scotland
2. Jersey - Channel Islands
3. Isle of Skye, Hebrides - Scotland
4. Isle of Mull, Hebrides - Scotland
5. Lewis and Harris, Hebrides - Scotland
6. Isle of Arran - Scotland
7. Isle of Man - British Isles
8. Island of Anglesey - Wales
9. Isle of Wight, Hampshire - England
10. Guernsey - Channel Islands
TripAdvisor lists travellers' favourite islands | Travel | guardian.co.uk